Structure Integrative Healthcare Reviews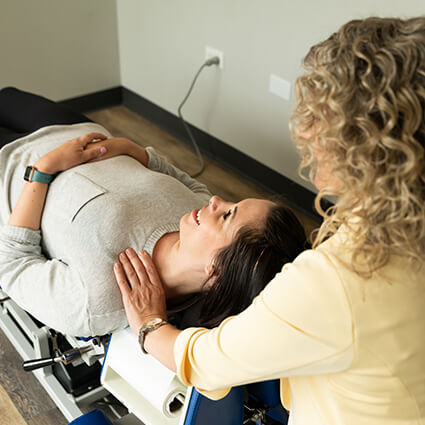 What Our Naperville Patients Say
At Structure Integrative Healthcare we love when patients share with us their feedback and comments after chiropractic care. Please read our patient testimonials below to see what other people have achieved through their tailored treatment plans with us.
Share your stories too! Click here to send us your feedback so that we can help to spread the word about the benefits of natural Structure Integrative Healthcare care.
For more information, or to schedule an appointment contact us today.


Amazing Progress
I could not be more satisfied with my care at Structure Integrative Healthcare. The office is so welcoming and I felt the concern for my health from both Dr Nancy and Dr Courtney from my very first visit. The progress I have made is amazing and I am excited as I get more freedom of movement.
-Karen L.
Great Experience
I had 3 acupuncture sessions. The day after the third one I had the baby! It was right after I put the clary sage oil on that I went into labor. Thanks for everything!
-Sarah P.
Felt Amazing
I had seen another chiropractor for my back pain in pregnancy with no relief. I was in extreme pain for weeks and after 1 visit with Dr. Courtney I felt amazing. She is amazing at her job and made me able to function again!
-Kathryn G.
Sense of Calm and Encouragement
Dr. Weigand was so accommodating with her busy schedule that she was able to squeeze me in on the same day. I was in the early stages of active labor and things were not progressing as they should. Dr. Weigand's knowledge, sense of calm, and encouragement really allowed me to relax during the visit which is something I couldn't do for days. The very next day, about 24 hours later, I gave birth to a beautiful baby boy and the actual delivery itself was smooth and quick! I look forward to future visits both postpartum and with any subsequent pregnancies in order to aid a healthy pregnancy and positioning of the baby.
-Jenna B.

Structure Integrative Healthcare Reviews | (630) 447-0123